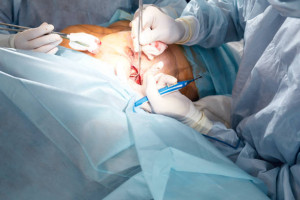 Advantages and disadvantages of a complete mastectomy in Iran / Breast cancer treatment with mastectomy surgery in Iran / The best surgeon for breast surgery in Iran / The best surgical clinics of specialized hospitals for breast surgery in Iran
---
The cost of chemotherapy in Iran

: $ 2,000-3,000 on average (depending on the type of drug used and the number of chemotherapy sessions)


Cost of mastectomy in Iran

: 1400-1950 $


The cost of radiotherapy in Iran

: 140-1,500 dollars


Average stay in Iran

: 7-10 days


Return to work after breast surgery

: 12-15 days
Analgesia or method of anesthesia for mastectomy: Complete anesthesia
Location of surgery: General public hospitals in Iran
Duration of hospitalization: 1 day
Other services: Hotel - Ticket - Medical visa - Tourist services in Iran
Free services: Intra-city trips in Tehran - Digital medical record - Telemedicine (doctor's online visit) - Nursing and treatment services at your hotel
---
---
Mastectomy is a procedure that many women need to perform due to various diseases. This surgery may be one of the scariest things that many people think they will experience, but the fact is that when it is needed, the benefits can outweigh the disadvantages.
However, mastectomy is a practical procedure that can have a great impact on a person's mood and self-confidence. Therefore, many breast surgeons prefer to avoid it as much as possible and use local breast resection (lumpectomy).
However, medical science and surgical skills have reached a point today where even after a mastectomy, it is possible to simply restore the lost volume of the breasts with a breast reconstruction operation so that there is no change in the appearance of the breasts.
Read more about Definitive treatment of breast cancer in Iran.
Generally, people perform breast augmentation for the following reasons:
Existence of a large mass (tumor) inside the breast, especially in small breasts
Existence of a tumor in the middle of the breast
Presence of cancerous masses in more than one breast area
The person has previously experienced breast radiotherapy
In the following, we will talk more about mastectomy surgery and examine its various aspects. Stay with us.

Read more about Breast Surgery Objectives and types of breast surgery in Iran.
Mastectomy and breast reconstruction surgery
Breast augmentation is called a mastectomy or removal of the breast. In addition to mastectomy, there is breast reconstruction, which is a type of surgery to make new breasts after mastectomy. During this operation, the surgeon creates a new shape for the evacuated breasts by removing tissues from other parts of the body, or by using artificial tissues called implants or prostheses.
Before the operation, the surgeon will talk to you about the appropriate options for breast reconstruction.
Whether or not you undergo breast reconstruction depends entirely on your choice. There are some women who do not want to have breast reconstruction surgery after breast augmentation surgery.
You can have breast reconstruction at the same time as your mastectomy, which is called instant reconstruction. You can also have breast reconstruction, which is called delayed breast reconstruction, months or even years after the breast augmentation procedure. Depending on your choice and the possibility of surgery, you can have breast reconstruction surgery at these times. There are many women who prefer to have this operation at the same time as a mastectomy, and many others prefer to do it later.
On the other hand, do not worry. You will have plenty of time to talk to your doctor and specialist surgeon about these surgeries and evaluate their benefits and risks. In addition, the surgeon can show you pictures of women who have previously had breast reconstruction surgery to see an example of a possible outcome.
If you do not perform breast reconstruction immediately, your doctor will have plenty of time to give you a variety of options and consult with you. While your breasts have been emptied and you are waiting for the reconstruction operation, you can use special volumizing bras, until it is time for the prosthesis inside the breast.
Choice of mastectomy without breast reconstruction
You may think to yourself and decide not to use breast augmentation prostheses, and not undergo breast reconstruction after mastectomy. Women may make this decision for a variety of reasons:
There are many who do not like to try another surgery
There are many who want to get back to normal as soon as possible
There are many people who do not like to have artificial prostheses in their body because they are not comfortable with them.

Read more about Mammoplasty in iran (Breast Repair Surgery in Iran).
Radiation therapy after mastectomy
You may need radiation therapy after mastectomy to minimize the risk and chance of the cancer coming back. Radiation therapy is a method that uses focused rays to weaken and kill cancer cells. Radiation therapy after breast surgery kills cells that may still be in the breast tissue and can become cancerous again. However, since their size and number are not significant, they can be removed without the need for re-surgery.
However, in some cases where breast cancer is not so advanced and is in its early stages, it can be eliminated without the need for surgery, and only with radiation therapy.
There are many surgeons who can perform a mastectomy on you. But it is always the advice of world-class researchers and doctors to see a doctor who specializes in breast surgery for mastectomy and any other type of breast surgery. This group of doctors specializes in breast organs and can perform therapeutic surgeries as well as cosmetic surgeries. By visiting these doctors, you can have a comfortable dream that you are experiencing the best surgery and the appearance of your breasts will not be damaged.
Read more about Treatment of early stage breast cancer.
The best country to treat breast cancer
It is always difficult to choose which method is best for treating cancer, or the best breast cancer specialist for patients. There are many patients who turn to different specialists for the treatment of breast cancer that it is too late to treat.
Iran, as a developed country in the field of medicine and a country that has very low costs for the treatment of breast cancer, can be a very good option for those who want to be treated with the least in the best cancer treatment centers.
For example, we compare the cost of breast cancer treatment using chemotherapy or surgery in some countries of the world and Iran.
| | |
| --- | --- |
| Country | Cost |
| Cost of breast removal surgery in Iran | 1450-1950 $ |
| The cost of mastectomy in Canada | 9,500- 11,000 $ |
| The cost of breast cancer surgery in the United States | 13,500-16500 $ |
| Cost of breast augmentation surgery in Australia | 15,000-21,000 $ |
| The cost of mastectomy in Turkey | 4,000- 6,000 $ |
| The cost of mastectomy in India | 3500-5000 $ |