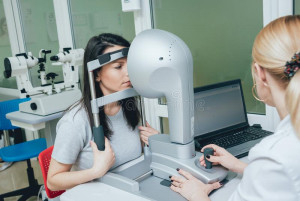 The best ophthalmology specialist in Iran / the best specialized ophthalmology clinics and hospitals in Iran

Ophthalmology is a branch of medicine that deals with the anatomy, physiology, and diseases of the eye, eyelid, and lacrimal duct. In order to repair and treat eye problems such as direct injury due to trauma and various diseases such as myopia, presbyopia, color blindness, eyelash, retinal detachment and corneal transplantation and cataract surgery, etc. provides clinical and therapeutic services.
Ophthalmology has two branches of surgery and medicine. The treatment part of this medical specialty uses medication in cases such as glaucoma and conjunctival infection and corneal dryness and diabetic retinopathy and keratoconus and cases of poor eyesight such as myopia and hyperopia and astigmatism and ... Treats people. Ophthalmic surgery department treats cases such as cataracts and malignancies, etc.
Iran as a leading country in the field of surgery and treatment of eye diseases and corneal transplant center in the Middle East. The contracted centers of our group as specialized ophthalmology centers have the latest and best diagnostic, treatment and surgery technology.
Ophthalmology also acts as a science for specialized eye care in addition to treatment in collaboration with disciplines such as optometry in the diagnosis and evaluation of the strength and level of vision and periodic screening for early detection and treatment of ocular disorders. Glasses and lenses will also be done by Tourism angels if needed to completely cure your vision problems.
Tourism angels Group has special medical services in the field of free electronic files for all clients in order to control the disease process and follow up on your treatment. We also offer eye care courses in person and online through our Video and Telemedicine to create a healthier life for you.
Steps of treatment for ophthalmic problems in Iran:
1. Fill in the initial application form and sign the pre-contract
2. Contact an ophthalmologist and a medical expert
3- Creating a digital file
4- Preparing tickets and visas and necessary measures to go to Iran
5- Welcoming and accommodating the patient in the hospital and concluding a face-to-face contract
6- Performing diagnostic and therapeutic measures in the medical center
7- Visiting tourist and recreational facilities upon request
8- Training to follow up on medical affairs through digital profiles and paper brochures for care after surgical and therapeutic procedures.
9- Preparing a ticket and taking the necessary measures to return to the country of origin
Costs of eye surgeries and ophthalmology services in Iran
| | |
| --- | --- |
| Ophthalmology treatment in Iran | Cost(dollar USA $) |
| Cataract surgery each eye | 600-900 |
| Cataract surgery both eyes | 1000-1300 |
| Glaucoma surgery | 800-1000 |
| Strabismus surgery one muscle | 800-1100 |
| Strabismus surgery two muscle | 700-1000 |
| Strabismus surgery three muscle | 600-900 |
| Corneal transplantation | 1300-1600 |
| Extract silicon | 600-900 |
| Silicon injection | 500-800 |
| Lasik eye surgery | 1100-1400 |
| Eye lens implantation | 900-1400 |
| PRK surgery | 400-600 |
| Correction of corneal rupture | 800-1200 |
| DCR surgery | 600-1000 |
| Iol exchange | 700-1000 |