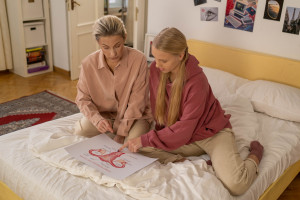 Using radiotherapy to treat cervical cancer in Iran / The best oncology specialist and radiotherapy for cervical cancer treatment in Iran / The best hospitals and radiotherapy clinics for cervical cancer treatment in Iran
The cost of chemotherapy in Iran for the treatment of cervical cancer: 2000-3000 $ on average (depending on the type of drug used and the number of chemotherapy sessions)
Cost of hysterectomy in Iran for the treatment of cervical cancer : $ 1400-1800
The cost of radiotherapy for the treatment of cervical cancer in Iran: 140-1,500 dollars
Average stay in Iran: 7-10 days
Return to work after uterine surgery: 12-15 days
Analgesia or procedure for uterine surgery: Complete anesthesia
Location of surgery: General public hospitals in Iran
Duration of hospitalization: 1-2 days
Other services: Hotel - Ticket - Medical visa - Tourist services in Iran
Free services: Intra-city trips in Tehran - Digital medical records - Telemedicine (doctor's online visit) - Nursing and treatment services at your hotel
---
---
X-ray radiation therapy for cervical cancer, also called cervical cancer radiotherapy, uses X-rays to kill or damage cancer cells. This radiation targets parts of the body that have cancer or areas where cancer cells may have spread. Treatment is carefully planned to minimize damage to healthy tissue.
Your doctor may consider radiation therapy as the main treatment for cervical cancer, or choose it after surgery to help get rid of the remaining cancer cells. Women with cervical cancer, whose cancer has spread to the tissues or lymph nodes around their cervix, usually receive radiation therapy in combination with chemotherapy (chemoradiotherapy) to reduce the chance of the cancer coming back.
There are two main types of radiation therapy for cervical cancer: external and internal. Most women undergoing radiation therapy for cervical cancer do both.
In external beam radiotherapy, the device directs radio waves precisely from outside the body to the cervix, lymph nodes, and other organs that need treatment. The initial planning session includes a CT scan to determine where the radio beams are directed and may take up to 45 minutes. The main radiotherapy sessions last only a few minutes at a time.
As a daily treatment during your stay in Iran for the treatment of uterine endometriosis, you will probably have radiation therapy on an outpatient basis for more than 4 to 6 weeks during the week. To treat cervical cancer radiation, you will lie on a bed under a radiation therapy device. Before turning on the device, the radiation operator leaves the room, but can still talk to you through the in-room intercom and monitor you through the screen while you are being treated. Self-medication is painless.
Internal radiotherapy is also known as brachytherapy. This is a method of transmitting radiotherapy directly from your body to the tumor, and its advantage is that it reduces the amount of radiation transmitted to surrounding organs such as the intestines and bladder. The main type of internal radiation therapy used for cervical cancer is high-dose brachytherapy (HDR). Due to HDR, more doses are given in a few sessions of treatment.
You will probably need 3 to 4 sessions in 2 to 4 weeks. You will be given general or spinal anesthesia at each brachytherapy session.
Applicators are used to deliver radiation to cancer. Applicators are available in different sizes and the oncologist examines your beam to select the right applicator for your condition. The applicator is placed under ultrasound guidance inside the cervix to ensure that it is in place.
To hold the applicator, a gauze band may be inserted into your vagina, or two stitches may be made in the area between your vulva and anus (perineum). A small tube (catheter) will also be inserted to drain urine from the bladder during treatment.
You will have a CT or MRI scan to check the position of the applicator. This scan helps the doctor get the brachytherapy to the right area. After the treatment program is completed by the doctor, the radiation source is placed inside the applicator for 10 to 20 minutes. If general anesthesia is applied, it happens while you are asleep.
If you have had surgery to remove your cervix (hysterectomy), your doctor may want to transfer extra radiation to the top of your vagina. This puts an applicator in your vagina. In this case, there is no need to apply general anesthesia or gauze.
After delivering the appropriate dose of radiation, the applicator leaves the place. If multiple sessions are required, the applicant will be re-entered each time.
The duration of radiotherapy treatment is usually long and the rest of the body is usually affected. For this reason, methods such as chemoradiotherapy or surgery and simultaneous radiotherapy are used.
Do not worry about the length of stay in Iran because the hotel costs will be very cheap for you. On average, hotel costs for you will be between $ 70-125 per night in 4 and 5 star hotels.
Telemedicine (internet visit by oncologist and gynecologist) in the application
Digital medical record
The best cancer treatment centers
The best genetic laboratories
The best radiotherapy centers
The best oncologists
| | |
| --- | --- |
| cost | country |
| $ 10,000- $ 50,000 | The cost of radiotherapy in the United States |
| $ 7,000- $ 10,000 | The cost of radiotherapy in Turkey |
| $ 13,000 - $ 45,000 | Cost of radiotherapy in Spain |
| $ 2900 - $ 5000 | The cost of radiotherapy in India |
| 140-1450 dollars | The cost of radiotherapy in Iran |